Lipstick is a popular and daily base usable beauty product for present-world women. A long, long time ago woman started coloring her lip. A thousand years ago Ancient Egyptian people, Indus Valley Civilization, & the Islamic golden time use lip color for several reasons. Once upon a time in the United Kingdom & the United States, only upper-class women use lip color.
People always try to present a new way of beauty. For that reason, most modern women like to wear makeup. Lacquers are more valuable for them to look fabulous. Recently most beautiful ladies like to spend time in the office, party, & meetings. That's why women like to paper for a long time.
The present cosmetic industry makes the best lipstick for the office. That stays for a long time. Helps to get a gorgeous look. I try to present to you good-looking & beautiful lipstick from thousands of shades. There is the best collection of long-wear office lipstick.
How to choose office lipstick?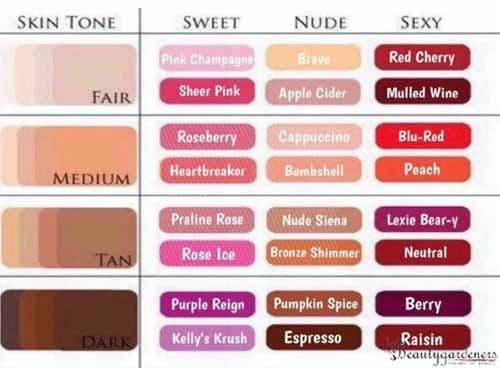 Maybe lipstick is one of the most popular makeup in the world. Because it can instantly change women's looks. That's why need to know what is a beautiful lip color for me.
Because the wrong lip color can make you look ugly. For that reason there I trying to discuss 3 important factors to getting a beautiful & formal office lipstick color.
1. Fast you need to know your skin tone. Because this is the best way to get perfect colors. I think every woman knows her skin color. If know your skin color just look at this image. This photo helps you to determine which color is best for you.
2. The second most vital subject is the size of the lip. Most of the lip size is thin & plume. Their glossy & creamy lip color is best for the thin lip. On the other side plume lip have to avoid light, glossy & glitter colors.
3. Finally, we have to concentrate on tooth color. White teeth women can choose any color of lipstick. But yellow teeth look good with light red, orange, rose, etc.
Applies tips for office wear lipstick
Sometimes a little change makes a big difference in our life. So try to add or remove some specialty with your makeup. That can make you a special one. That's why now I discuss six useful tips for your lipstick application & choice.
1. Save your teeth from lipstick with my fast tips. Apply lipstick on the lip. After a complete application put a finger in the mouth. Then make your lip O shape. You can follow the image to understand the shape. Now slowly out a finger.
2. Many experts believe everyone should wear lip liner before applying lipstick. The texture is of the lip liner slightly dry. That mix with creamy texture makes a transfer-proof or kiss-proof layer for long-lasting.
3. But try to take the same color lipstick & lip liner. Outline lips with liner and fill-in lips. Then you can apply lipstick. The liner also works as a base of the lipstick.
4. The third tips are foundation application as a base of lipstick & long-lasting. Apply foundation on the clean lips. Now you have to use, compact powder for the setting. Then start applying lipstick.
5. Are you confused to find sweet able lip color with your skin tone? No need to confuse. Expert-tested some color that well with any skin tone.  You can choose bright pink, red with a blue undertone, deep violet, orange-red, warm brown, etc.
6. My favorite makeup artist Clarissa Lunar says. When come to take a lipstick for the day. Try to choose matte lipstick. On the other hand, glossy lip colors good for evening or night jobs.
3 Best lipstick for office
Just stay with good looking & a formal lip on the work. That reason you can take our most popular three lipstick collections.
---
Popular 3 overview by user
| | | |
| --- | --- | --- |
| nud | Vitamin E & argon oil formulated pink color lipstick attract me. Because my lip is dry. These two ingredients help to moisture lip. | shop |
| burt's | I can say a great natural creation for my dry & good looking lip. Because of enough hydration power with a beautiful rose pink colour. | shop |
| Almay | A formal lip color with a matte finish, fragrance-free & hydration power. Stay up to 5 hours. | shop |
1. Fairest Nude lipstick review
Key Features
Formulated with moisture 
Pink color
Good pigment
Beautiful smell
Bad Side
Not good for long time use
User experience
The best lipstick shade for medium skin tone. Because this is a pink color lipstick. Also pink color looks good with olive tine skin color. On the other hand, it's looking good with olive & fair skin tone.
The pigment is very nice to swipe need. The feel is super smooth & soft. After coloring lip starts nourishing & hydrating. Because made with Argan oil, vitamin E, and omega 3.
Staying power not so high. Three to four hours stay with a good feeling. But the smell is beautiful. You can apply with your dry lip without question. So start trying your own lip.
2. Burt's lipstick blush basin review
Key Features
Natural formulation
Beautiful color
Moisture power
Soft & smooth feel
Bad Side
User experience
100% natural resources without any harmful chemical parabens, phthalates, etc.  Formulated with moisturizing ingredients to solve the dryness problem. So moisture lip at the same time beautiful color makes an awesome look.
I chose Doused Rose from lots of shade. Because Doused is rose pink Color lipstick. That looks good with any skin tone. Stay 4 or 5 hours without question.
The finishing is smooth & the texture is soft and creamy. Glides easily with moisture. After applying you get a glossy look. I think a good one for daytime use.
3. Almay go wild lipstick review
By Rajib (After reading several reviews)
Key Features
 Stay 4-5 hours
Creamy feel
Moisture lip
Formal color
Bad Side
User discuss 
Do you know why I love Go wild lipstick? Because I love the formal lipstick color in my office. A gentle color lipstick in my everyday preparation.
Good moisture power is another great reason for the choice. Basically a matte finishing, but comfortable for moisture lip. Blend of Shea butter and vitamins E & C.
So a rich mix for hydrating lips with a matte finish. After dry, I feel smooth and creamy. Not overall matte feel & stay 4-5 hours.
Our lucky 7 lipsticks for work
This is our last lucky seven beautiful lipstick collection to make you look fabulous. Hope women enjoy our lip color choice.
---
Lucky 7 overview by user
Queen
This is a magic lipstick for me. The reason is after applying her green color turns rose pink. However, I am not satisfied with her thin texture but moisture lip.
shop
Audi tion
Her beautiful dark pink color & non-drying satin formulation surprised me. But not good for long time wear. Because stay only 5 to 6 hours.
shop
Gone
Cool medium-dark taupe perfect for my golden skin tone. This is not the only reason I love this lipstick. I also love her creamy matte finishing.
shop
Dior

Diorific

 025 

is my third 

moisturizing

lipstick collection 

from Dior. 

I love

 

her 

creamy

 

&

 

smooth feel. 

But staying ability 

not good.

 

shop
Cover girl

Glossy 

red 

with a

mix

 of orange 

color

. 

 

Also moisture my lip for a long time.

So I get extra 

benefits for my dry lip.

 

shop
Balm

After 

applying

I was confused with her finish.

Because 

finishing is not creamy 

& 

not 

matte. 

But 

hydrating lip 

& stay at least 

4 hours. 

 

shop
Mac

A gorgeous medium-dark red

shade 

that stays almost 5 hours

without the dry lip. The texture

is smooth matte

& needs two swipes

for the perfect

color

.

 

shop
1. lipstick queen frog prince review
Key Features
Color-changing lipstick
Moisture lip
Comfort 
Stay long time
Bad Side
User discuss
A very interesting lipstick that can change her color. Sometimes I love to describe it as lipstick to surprise people. Also, we can say a lipstick to gain celebrity lips or  Amanda Seyfried fashion.
However, look like a green lip color. But after apply I get a rose pink shade. That slightly red undertone with pink color. Personally, I love to say look like a sheer coral shade.
Very thin texture & blend with vitamin E. Hydrating lip solve the dry problem. But finishing is glossy & moisturizing enough time.
Stay longtime minimum five hours stay without question. But need to carefully drink & eat. The feel is soft, smooth, and glossy. So the night is the best time to Apply.
2. Smashbox audition lipstick review
By Rajib (After reading several reviews)
Key Features
Dark pink shade
Not dry your lips
Creamy
Satin finish
Bad Side
User experience 
Hi, lovely lady's what is your favorite color? If you love warm-toned. I think Be legendary audition best one for you. This medium-dark pink is really beautiful. You can style with the desired shade. After applying lip have a beautiful & satin finishing experience.
Creamy, lightweight, beautiful shade & richly pigmented combine make a gorgeous lipstick. Also helps you to answer what color lipstick with burgundy dress go here. Because of feeling, softness & color go with a burgundy dress.
I don't forget to color lip before joining my office client. You have to happy with the non-drying formula and satin finish. These lacquers gliding easily on my lip. Also creamy and non-drying formula help to comfortably wear.
Personally, I spend most of the time in the office. Its long-lasting formula helps me to keep a beautiful look for a long time. You can easily style with for five or six hours without feeding, but wearable for all day.
3. Maybelline Gone Greige review
Key Features
Easily stay 4 to 5 hours
Matte but creamy feel
Hydrating lip
dark taupe color
Bad Side
User thought
Describe as a creamy matte finish lipstick. That's not too dry and not too glossy. That walk the middle of the dry & glossy. That's why you can feel comfortable with them. Also sweet able for day time use.
Matte finish creation is always indicated for long time use. So it is the best long-wear lipstick that stays enough time. After applying you can allure lip for almost 5 to 6 hours without any problem. I think this is enough time.
Glide smoothly and easily on the lip. Pigment supper one or two swipes needs to fully cover. The color of the lipstick is cool dark taupe.
4. Diorific lipstick diorissimo review
Key Features
Smooth 

& 

soft feel

 

Kip my lips moisture

 

Good for dry lip

 
Bad Side
User talk
Do you want to get a lipstick that moisturizes? At the same time, allure & protect your lips. I get these types of polish. That made by the world-famous fashion brand Dior. Sadly, Dior Diorific 025 failed for this staying power or pigmentation.
Personally, I search for a polish that stays at least seven or eight hours. But it stays three or four hours on my lip. Also, pigmentation doesn't make me happy
because three swipes need for full coverage. But beautiful velvet matte shade, creamy, easily build-able, and satin-smooth make me happy. Overall, not a bad woman can try.
5. Covergirl succulent cherry review
By Rajib (After reading several reviews)
Key Features
Glossy red 

color

 

Includes moisture

 

powder

 

Velvety feel

 
Bad Side
User impression 
A beautiful piece for summertime. Because you need to wear hot color lipstick in the summer. That is succulent cherry. Generally, red with slightly orange looking lip color. So the shiny day is best for this type of shade.
Formulated with shea butter. That helps to moisturize lips to solve dryness problems. When you stay with moisturizing lips maybe feel comfortable with this movement.
The finishing is exceptionally creamy. That's the reason you feel soft with a glossy look. Yes, it's looking slightly glossy types. Need two layers for full coverage.
6. Balm girls good kisser review
Key Features
The mix of

olive & 

jojoba oil. 

 

Hydrating lip

 

Stay average time 

 
Bad Side
User experience
The color of the lipstick is light pink with a peach undertone. This type of shade looks good with medium, fair & olive skin tone. If you include these three skin colors. Take this one without question.
It's made by a soothing formula with vitamin A & E, jojoba & olive oil. That's the reason hydrating lip with a beautiful softness. The feel is smooth and comfortable.
Not too cream feel. At the same time not too much matte finish. So the texture is soft & smooth. But staying power average. Stay for 4 or 5 hours.
7. Mac Russian Red lipstick review
Key Features
Long-wearing 

Smooth texture

 

Non-drying matte

dark red color
Bad Side
I haven't any bad experience
User discuss 
This is a beautiful cool-toned lipstick made by well-known brand MAC.  Color attractive & gorgeous that can easily impress a makeup lover. Mac Its color generated for a dark red lover. 
Russian Red is popular for her longevity, finishing, pigment & wonderful look. I get lovely pigment that needs the second swap for full cover. If you are happy with long staying ability lacquers. Maybe it is the best choice for you.
Smoke stays almost 4 or 5 hours (need carefully eat and drink). That's enough for any polish. You can alluring lip daily basis. Because its creamy, non-drying matte formula & smooth texture comfortable.
4 lipstick Q&A for office use
Hope you enjoy our question & answer. Because we try there help you look more perfect in the office with a beautiful lip.
---
1. Q.

Why women apply lip balm before lipstick?

A. Every woman should apply lip balm before applying lipstick. On the other side, lip balm must for dry lips and matte lipstick texture.

Because dry lips need hydrated. Sam time matte lipstick can make your lip dry. Without this reason balm also works as a base of lip color. Finally, good for a glossy look.
2. Q.

What is a beautiful office lipstick color?

A. Yes, some lipstick shades are more popular than other lip colors. There I show you the top 07 colors. That shade is famous in 2020.
Red with blue undertones
Blackened violet
Orange-red
Brown
Any nud shade
Rose pink
Coral red
3. Q.

Can lipstick makes look younger?

A. Generally, any bright lipstick color can make your look younger. But if you want to gain more perfection in a younger look. You have to know skin color. There I discuss skin color bases lip color for young-looking.
Fair skin – orange, light pink, mauves, etc.
Golden skin – red, pink & brown.
Olive skin – peach colors like peach pink.
Dark skin – magenta & raspberry.
4. Q.

What is Demi matte lipstick mean?

A. This is like a general lipstick. But comes with special cooling effects. Because made with menthol. That's the reason I want to say a beautiful Demi lipstick best for summer.