When any women try to know what is the best eyebrow shape for my face. She needs to know lots of subjects to find a good-looking brow shape for her.
Because a perfect eyebrow shape defender on face shape. As a result, fast you need to determine your face shape. Then you have to be enough knowledge about different types of eyebrow shapes.
Finally, you have to know brow mapping aide. These three subjects combine to help you to identify the good eyebrow shape for your face.
So start reading this article to know deeply about these 3 subjects. That helps you to find out good-looking brow shape for you.
Popular eyebrow shapes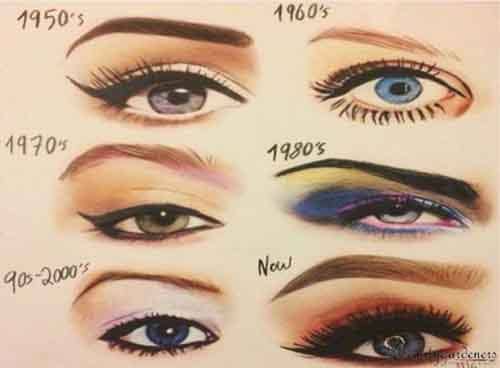 Do you want a beautiful brow? There are lots of subjects defend on a beautiful eyebrow shape for women. But most of the time a perfect shape depends on the face structure. Without a face, it is also defended in the eye shape.
Most of the beauty experts believe. If any women try to threading brow. That can look good with her entire expression. She needs to remember three subjects.
1. One is her own face shape. 2. Trying to thread an eyebrow with a thin line. 3. Finally, the natural structure of the brow.
However, there is a more essential face shape. That's why today our discussion area faces. But before start females also need to know different types of brow shapes. Then you can go to identify face structure-based beautiful eyebrow.
Different types of eyebrow shape
Various types of brow shapes survived the ladies in the world. Really a huge number, but all are not possible to apply in real life. Some of the eyebrows shapes only creates for making a movie.
As an example, you can follow any Hollywood horror movie. There you can get every type of brow. That only creates a horror look.
So we need to know the general eyebrow structure. That most of the women apply in real life. There I show some structure that mostly uses.
Straight
Rounded
Soft angled
Flat
S-Shaped
Angled
Curved
Groomed
There are most of the eyebrow styles create with people. But each and everyone grows with a natural eyebrow structure. Generally, each person in the world raises in three different brows sizes like 1. Thick, 2. Medium 3. Thin.
At the same time with 3 different arches-like 1. High 2. Media 3. Low arch. However, you can read also how to thread eyebrows at home
Different types of face shape
I think women already know their face structure. That's why there I am not interested to explain details about-face shape.
But I went to discuss shortly as a re-memorize. People brown with six types of face outline. The six is
1. Round
2. Square
3. Oval
4. Diamond
5. Heart
6. Long
What is the best eyebrow shape for my face
If you read the full article I think you already know. Details about different types of eyebrow & face structure.
So this is the right time to explain which brow style perfect for a particular face. That helps to find out fashionable brow with each face outline.
Eyebrow shape for round face
I suggest you style brow with a high arch. This is one of the best choices for women. Also, try to avoid round & straight. These two always harmful to get beautiful looks with them. High arch & slightly longer end always the best choice for naturally balance or natural looks.
Eyebrow shape for square face
Women can try any softly curved end of the eyebrow for beautiful looks. That's why you can stay with round brow looks. But remember eyebrow size has to be thick. Also round has to be soft & balance.
Eyebrow shape for oval face
Any kind of brow style looks good with an oval. But if any person asks me which shape you suggest. I suggest a straight eyebrow for her. Or shape the slightly arched & slim. I think you can understand what I can say there.
Eyebrow shape for diamond face
Any type of curve shape well balances with them. So people can walk with curvy looks in her upper side of the eye. Before creating the curve need to remember. Brow high has to medium or slim size.
Eyebrow shape for heart face
You can choose bold brow looks. That is not too slim or thick. I want to suggest a groomed brow shape. I want to more clear you. Women can stay with straight & round shape. But that has to bold not slim.
Eyebrow shape for long face
If the ladies want to look with long. She can fashion with a straight brow. Or an eyebrow that little bit longer than a general eyebrow-like – tailed age brow. But in my personal opinion flat brow shape is also good for you. However, you can also read best european skin care products in 2020
Brow mapping
Before starting threading ladies need to map brow. This mapping helps the woman find out the start, arch, and end accurate way. That also helps you to understand the natural structures of the eyebrow.
When you know the natural shape. Then women can easily shape brows with their face structure. So it is helpful for us. But now need to collect an eyebrow pencil & a wood stick or makeup brush.
Hold the wood stick end of the brow or last corner of the eye to the last corner of the nose. Now make a mark with a pencil end place the eyebrow.
Now come to the measure begging part of the brow. Hold the stick straight inner part of the eye to the nose ending point. This is the perfect way to find out the begging part. Now marks with a pencil.
Finally, hold the wood stick horizontal outer ending part of the nose. Remember stick should go over the medal of the pupil. Now mark with a pencil. This way females can easily find out the perfect arch.