Are you worried about the black dot on the nose, chin, & cheek? It is a common problem on the human face. So no need to worry. Generally, most people like to call this problem blackheads. Yes, this is a well-known name for a black dot. So you can also call by this name.
Lots of men & women supper these problems. That kills the natural beauty of the human face. I know that's why people are angry. Because you are going to be ugly. Really, I agree with you, it's not looking good. But I want to say please don't worry. Just need to know how to get rid of blackheads.
Several years ago I supper these matters in full neck & face. But my head was safe. I west my lots of time finding a way to solve this problem. Finally, I was successful to remove it from my face. Today I am going to share my success story. That's the story and the method helps to successfully remove.
What are blackheads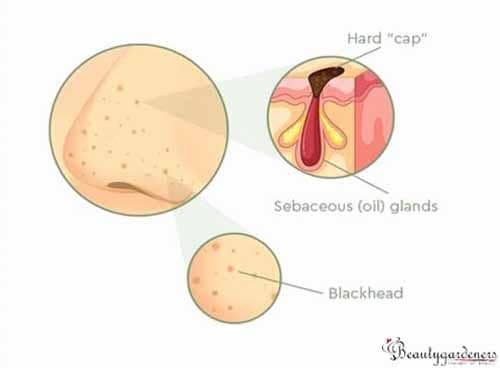 Its answer is simple. Because you can identify by black spots or black dots on the body or face. Most of the time it happened with a face.
Without a face, it also occurs with the back, chest, neck, arms, and shoulder. So we can say this symptom is a dark spot on the skin's surface.
Really, these look like dark dots. But it is not a dark dot it's a small bump. The good news is it is not painful just looking ugly.
What causes blackheads
This is happening with human body elements. A human body always produces oil by a sebaceous gland. That's called sebum and this sebum is oil. Also, the body creates new skin cells. That helps to shiny, soft, smooth & younger looking. That's why oil & new skin most important for us.
But when the new skin is growing. That time some skin is dead. Also over sebum block pores. Sadly, these dead skin & oil combinations harmful for us. That's called oxidized mix. That's why plugged our pores and create a pimple. That's why we need to use the best Korean moisturizer for oily skin go here.
However, when oxidized comes into the air. Its color turns black. That's why it looks like a small black dot. But its haven't any health risk & pain. But it's not good for us. We should know how to clean blackheads.
How to get rid of blackheads
It is possible to control or remove the blackheads problem. But you have to complete some work to remove it. Today I am going to discuss 2 different ways to rid of this issue.
These two methods are 1. Best products for blackheads 2. How to rid of blackheads with home remedies. This way I throw from my own experience.  So let's start with the product.
---
Best ordinary products for blackheads
---
1. Start to use weekly basis pore strips
Before starting to use strips, you need general knowledge about this product.  What is this and how to use it? These two questions are most important for a beginner user. Let's you have to find out the best strips. There I try to complete these three answers.
It is one kind of band-aid. Sometimes I usually love to say this word. But the popular name is sheet masks, pore strips, pimple stickers & nose strips, etc. I think you already understand. But need to know why we should use it.
Maybe it is helpful for you. Because it's gently cleaning dead skin, dirt, leftover makeup & oil from the nose. Basically, these harms combine to create blackheads. So this is an urgent need for us. Now I recommend my choice of two strips. I have a good experience with these two.
Biore pore strips
I pick it from the thousands of collections. It is the best pimple stickers on the market. Oil-free and two different strips are available. So you can use it on the chin, nose & face. But I suggest, please don't use sensitive areas like around the eye.
Piggy nose three-strip
Another good one for the clean nose. It completes her work in three steps. Fast open pores by essence infused strip. Then extract and finally helps to clean pores. This product really good for clean harm.
How to use pore strips
Always try to use the proper way. Because accurate way helps to get good results.  Just follow my instructions and try to complete step by step full process.
Start clean & wet nose with water.
Peel off plastic and past on the nose smoothly with a finger.
Then need to wait 10 to 12 minutes.
Finally, remove from the nose.
2. Use a clay mask
Lots of facial masks are available like clay, cream, gel, charcoal, etc. But I choice a clay mask to remove blackheads. That has a reason. Basically, all masks work to clean your face. Clay best of them to clean oil, dead skin, bacteria, dust, etc. That is our most need.
Some clay mask especially contains with essential ingredient salicylic acid for clean dead skin. Also, it is dry your skin than another mask. That's why need to use a moisturizer after applying. I hardly suggest using one time per week. Also, best to clean before completely dry.
Various types of clay masks available. But all is not good for you. Need to choose skin types based. There I want to discuss only three types of clay. That almost covers all skin types. The three are 1. French green 2. kaolin 3. Bentonite.
1. Green clay mask
The well-known name of the product is green clay. That best choice for oily skin. At the same time usable with any skin type. Its color green and comes from France. That absorbs all harm from the skin like -bacteria, dirt, oil, etc. You can mix with honey, water, lavender oil, etc.
2. Powder Clay
One of the best products for sensitive & dry skin. Most of the time kaolin comes in white color. But more colors available for you. It is my choice of clay powder. That I have used since a long time ago for my dry skin.
This powder gently cleans oil & stimulates circulation for a healthy look. Basically, it's work to clean all types of bad issues from face and pores. Now I give you an aide for mixing the product.
You can mix with green tea, lavender oil, jojoba oil, powdered milk, honey, etc. Whatever you want just have to feel and smell good. Now I am clear you best way to mix with jojoba & lavender essential oil with this powder. Finally, mix water & start to apply the face & neck area.
3. Aztec healing clay
One of the most powerful clay to fight against oil, dust, dead skin, etc. But a great choice for only normal to oily skin. It's hasn't any smell. Just carefully mix with water, lemon juice, jojoba, and rose or rosemary oil. After applying need to remove within 16 to 20 minutes from the face.
How to apply a clay mask
All face mask application processes almost the same. There is nothing to hide or show.  This is my opinion. Now I show you an easy process. That I apply in my own life.
Mix clay with essential like honey, water, oil, etc.
Gently clean your face with any face clincher.
Then apply a thin layer into the full face & neck
Now need to wait 25 to 30 minutes to dry.
Take lukewarm water and wipe full face
Finally, rinse and take a dry towel to wipe.
Use a lightweight moisturizer
3. Carefully stay with makeup
Maybe makeup is an important subject for women. That can instantly change your look, but it's harmful also. Cosmetic cases you have to be supper lots of skin problems. So no need to stay long time with cosmetics. After back home as soon as possible need to remove the cosmetic.
We are blocking our pores by using too much cosmetic. Yes, it's true. Also, we need to buy oil, alcohol, acrylics, parabens & fragrance-free products. That is less harmful to us. Try to clean your makeup brass after use. But you can apply cosmetics with blackheads. Just need to right way handle.
Try to collect non-comedogenic products. Remove lipstick shade before going to sleep. What is the best eyebrow shape for my face shape? Try to choose branded products. Finally, you have to use the best makeup remover. These two for you
Clean it zero
This Product sweet for all most all skin types. It is a fast benefit from them. General a lightweight sorbet formula and oily type cleaner.
That deeply clean waterproof makeup, dust, oil, and any impurities. Just take a little amount into the finger & apply your chin, forehead, and cheek. Now start massage full face and last rinse.
DHC cleansing
A beautiful facial cleansing oil. That great work to clean all types of residue from the face. Even waterproof mascara, makeup, eyeliner, excess oil, sunscreen, etc. Also sweet for all types of skin. Her valuable ingredients are olive oil. After use, they make our skin refresh, soft, & balance.
4. Keep your skin moisturized
Please don't forget to moisturize your skin with blackheads. Because of the dryness is not good for you. Each time you need to stay with open pores. The only moisturizers can help to open pores. So it is important for us. But need to apply the right amount, accurate products with the exact time.
However, when you feel dry immediately need to apply moisturizer. Because dryness helps to produce excess oil and more oil blocks pores. But need to find out a product that contains oil-free, water-based, none comedogenic levels, fragrance-free & lightweight formulation. Also, apply the right amount that is your needs.
Now some tips to use. Before applying the best way to clean the face with water. Try to apply more products where you need to keep more moisturizing. I mean which places are surrounded by more pimples. Finally, just avoid using alcohol-based creation. Alcohol dries our skin faster. Now two good moisturizers for you.
Water face moisturizer
I choose, it's for the hydration of my skin with blackheads. That has a reason. Because this is a water-based moisture gel, & oil-free.
At the same time, non-comedogenic, fragrance-free & absorbs quickly. These types of features need for our black dot. Even you can apply under makeup.
Aveeno face moisturizer
This is almost completed full features to become the best moisturizer for blackheads. Its salicylic acid ingredients a key to treating acne. That I love so much. Also an oil-free, hypo, allergenic & non-comedogenic products. That's best for everyday use with our problems.
5. Try salicylic acid to rid blackheads
Fast starts with what is salicylic acid. This answer is- you can describe it as a beta hydroxy acid and well-known ingredients for blackhead removal products. Also, it is present in lots of beauty products ingredients list. Let's start a discussion about why it is most important to ride our pimple.
I try to give this answer simply. An acid that helps to open pores.  Deeply penetrate skin sebum and destroy the sticky dead skin. Fighting with acne, clear dead skin, help the skin grow, etc. Really a good ingredient for acne or oily skin.
You have to apply regular basis and the exact amount. Because after stopping use again our pores will be locked. Maybe you not interested to lock the pores. Personally, I suggest choosing a product that contains 2% acid. Not more than 2%. Try to use less than 2%.
If you don't apply frequently or don't maintain a few subjects. This acid will create some problems. After use tries to avoid the sun, stop using with pregnancy, harmful for dry skin. Incorrect use occurs in irritation, dryness, redness, & thinning skin problems.
Remember, don't use this acid with glycolic acid or any Exfoliants. However, if you are facing a problem, try to call a doctor to solve it. The next work is finding a product that maintains the presentence of acid or pH level.
How to use salicylic acid
Many ways you can apply. Basically, it depends on what type of product you choose.  I mean lots of beauty products come with this acid. There I show two products & the application process.
Acne solutions ant oxidants formula
A small free deep clearing that contains 2% salicylic. Regular use possible to clean acne blemishes & reduce pore size.
I use it every day with my clean face. Yes, need to remove makeup & dust from the face. Then take a cotton ball and put a few drops.
Then apply on the dry skin. You can reply 1 or 2 times if you need. Now just wait for 30 seconds. Last, rinse & apply moisturizer.
C – Serum for Skin
An anti against facial serum with the perfect amount of salicylic. Even protect sun harmful rays and skin damage. Also, nourish skin to remove dark & healthy looks. Its main benefit is to reduce pore size and hydrates skin for a long glow. Just try a little amount into your face each day. Every day application best for good results.
How to prevent blackheads naturally
Always a natural way is the best policy. I hope you can agree with me. Thousands of years ago people depend on nature to solve various problems & skin disease. Steel modern world flows our previous people thinking.  That's why now I discuss some natural way.
---
1. Apply lemon juice
Lemon juice is a well-known Ingredient in homemade remedies for blackheads and many skin problems. Which happened to her important citric acid, antibacterial properties, alpha hydroxy acid & various essential benefits. Now I discuss lemon features.
Alpha hydroxy acid work against the acne, pimple, old dead skin, and any skin problems. Citric acid tightens pores. Also antibacterial and acidic features clean germs, oil, dust, etc. Without blackhead problems, it prevents many skin problems. But overuse harmful for us.
Maybe excess applies helps to create lots of skin disease. Because of too much use clean good skin bacteria, burning, dryness, stinging, redness, itching, etc. Are you ready to supper the problem? But I am not ready. Because I already solve this harms by using one or two times a week. So you can do this.
How to apply lemon juice
You can try in many ways. Just need to mix with water, honey, salt, rose water, etc. Also, only lemon can applicable. Just slices lemon and start to rub problematic areas on the face.
There I discussed only one best method for our black dot. That is lemon & salt. You can do the same job by mixing with other ingredients. (I already mansion sweet able subject with lemon). But salt is best. Because salt & lemon combine makes an antibacterial face scrub.
Salt can exfoliate dirt, oil, grime, germs, etc. That's why my choice salt. Now start by slice a lemon and start juice with a blander. Take a few salts on the cup and need a teaspoon. Flow the amount of mixing & star use
Half spoon salt
Spoon lemon juice &
1 spoon pure water
2. Use honey for the blackheads
This is one of the most popular natural vitamin sources for a human. That haven't any side effects for people body. Did you know it helps to remove our blackheads and whitehead without any effect on our skin? Now I discuss how honey helps us.
Naturally honey-rich in antibacterial properties. Which helps to fight against germs. That also has antioxidant & antiseptic properties. That natural hydration, nourishing, softens, and moisturizing skin. Clean dead skin, oil, dust, etc.
I hope you already understand why need honey. But also need to know how to apply. The various ways you can complete this job. Just need to mix lemon, sugar, apples, tomatoes, eggs, almonds, milk, salt, oatmeal, strawberry, etc. But I love to apply only honey on my face. Now my choices two-row honey bottles.
Y.S. raw honey
One of the delicious raw honey of my choice. Manufactured by YS  Bee Farms. Without question, you can try. I don't say more just try it's for blackheads.
Bee raw buckwheat
This is another good one from my own experience. This one collects from the natural flower. Without our needs, you can use tea, coffee & several foods.
The raw honey application process
Before starting talking about application details. I just want to tell you this is my own process. This way I gain good results. But you can use honey with –
Strawberry & lemon juice
Lemon juice and salt
Oats & lemon juice
Honey and cinnamon
Baking soda & lemon
Lemon, egg, and baking soda
Sugar & milk
Oatmeal and egg
Apple & cornmeal
Almonds
Oatmeal and tomatoes etc.
Before starting the application I just clean my face and hand. Yes, I clean my hand. Because I apply with my finger.  Now need to wait until dry your face. Take few amounts and start rub with fingers for warmth (please don't warm honey with a gas stop. That can kill natural benefits).
When you feel warm, this is the time to apply to the face. After applying just wait at least 15 to 20 minutes. Finally, clean with a soft and damp cloth. All application processes almost the same. Just need to mix other ingredients with them.
3. Try baking soda
If you are an expert in the cooking industry. I think baking soda well-known product for you. But what matters is you don't know without cooking it is an essential product in the beauty industry. Many women like to use it as a homemade remedy for their skin and face.
Also, some experts suggest using blackheads remove. I agree with the expert. Because these sodas protecting, healing & nursing our skin. The main benefits are helping to open pores, clean dead skin & make our skin soft & smooth. Usually, I love to say this is a chemical-free & natural cleaner for us.
But if you have dry, allergic, and sensitive skin just leave this method. This remedy not good for you. Because it creates irritation, redness on the skin surface. Also, after complete the application, I feel dry. I think dryness is no problem. You can solve this problem by using moisturizer. But work well for the black dot.
How to use baking soda
Numerous ways you can apply.  As like previous honey and lemon method. You can mix with various subjects. I show you some ingredients that well blended with soda.
Honey
Lemon
Water
Cider vinegar
Sugars
Herbs
Salt
Milk
I think no need to show an individual using process for each ingredient. All application method is almost the same. That's why I show you only one way. That helps to complete booth. Let's start…
My showing method is soda & honey. Fast you need to wash face with lukewarm water. This wash helps to open pores and you can gain better results with soda. So don't miss it.
Now take soda and honey in a bowl & start mix. Next job is applied on the affected area. After completely applying need to wait 5 or 6 minutes & rinse. You can do this job weekly 1 or 2 times. Try to complete this job with my recommended soda. Because this is best on the market.
4. Kasturi turmeric
If you are a woman reading this article. I think no need to introduce with turmeric. It's a well-known product for you. You already use it to gain many beauty benefits. But who doesn't know about these benefits I only explain for her.
Personally, I love to say it is a secret weapon for the beauty industry. Many ways you can benefit from them. Even you can treat blackheads. Naturally, it has anti-inflammatory, oxidant, neoplastic, bacterial properties. Also, its work for blood purifier.
Really, it's a good product to solve acne, pimple, dark spots, sun damage, wrinkles, fairer & oily skin. Gently absorb oil, destroy bacteria & clean dead skin. Mostly these three benefits our needs. This also works to smooth, soft & improve skin tone.
How to use turmeric for blackheads
Many ways can be applied. As like another natural method in this article. It also needs to include some ingredients with them. But I show there 9 ingredients. This nine is best to mix with turmeric for treating acne. This 9 are –
Honey
Besan
Yogurt
Lemon
Neem leaves
Sandalwood
Raw turmeric
Olive oil
Aloe Vera.
There I show only one mixing and application process. That helps to complete all process. You just mix honey with them as you need. But measurement is 1 teaspoon turmeric with half teaspoon honey. Now use it all over the face. Leave it 10 to 15 minutes and rinse. Just do it every day for best results. Now two good turmeric powder form my choice.
5. Clean your face every day
If you read my full article I think you already understand why block pores. Mostly dead skin, dust, and oil are a big reason for the block. That's why need to clean face everyday morning & evening. Without washing not possible to clean these three harm from the face.
So it is a big reason to clean. But some subject needs to know before was with a pimple. Find a face wash, which contains salicylic acid. Remember your skin type when you buy one. Don't forget to moisturize after clean.
Grow your conches mind to know more points. Like – before wash, remove your makeup. Wash your face daily two times. Stop over washing. Buy an acne fitter cleaner.  I choice two acne fitters cleaner for you.  Just try these two.
Clean & Clear acne control
Three steps acne fitter cleaner. You can choose it's for oily, dry, normal & pimple skin. Fight with acne without hazel and without skin dry.
These is the main features, but 3 products also have their own benefit. The 3 pics are
Cleaner- wash dust, oil, dead skin, etc.
Fast-acting treatment – penetrated pores, clear acne breakout & fight with oil.
Moisturizer – solve the dry problem & helps to healthy looks.
Bioré cleanser
It is contained without oil and with salicylic acid to treat acne. This is the main reason I like it for you. But gently clean dust, oil, and dead skin. Also, It has another benefit that helps to open pores.