Lots of women not happy with her eye look. But this looks important for gorgeous & loveliness. If I say this is happening for your incorrect eye makeup application. Maybe you can angry with me. But it's true this is your wrong.
Because before starting makeup. Need to know some basic thought about the eye. They're more vital to understand eye shape. Some shape of the eye is not makeup friendly like hooded eyes shape.
Basically, People born with different types of eye shapes. But the most recognized and well-known six types of shape. The 6 is Monolid, upturned, downturned, hooded, round & almond.
Their hooded shape is the most difficult structure for makeup. That's why today I try to throw some makeup tips for hooded eye makeup. Maybe these tips help to get beautiful eye looks.
What are hooded eyes?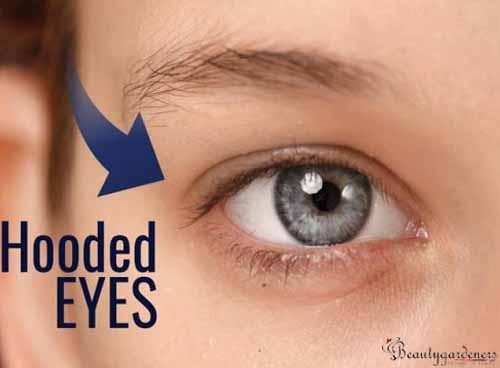 This is a very easy answer. I went to complete this answer with one word. This is the name of the eye shape. That does not create any health problems and pain. Because this is not any skin or problems. how to thread eyebrow read here. So don't have to be a worry. On the other hand men always safe from harm.
But it has a harmful side. Normally, this kind of shape tricky for any woman. The reason this is not a makeup responsive form. That's why females need extra preparation for applying cosmetics.
I think you already understand what the problem is & what this is. If you are confused or need to know more specifics. Just read the full article to identify details.
How to determine hooded shape?
Do you know what is crease line?  If don't have any knowledge about the crease. You can follow the image. That helps you to understand. I think now you already know about the crease. So answer the question very easy for you.
Find out the crease line of the eye. If natural fail to find the crease. Maybe your eye is hooded. Because of an extra skin layer hang over the line.
Most of the time people natural born with them. But more reasons also include. Maximum old men & woman's skin regular hangs over the crease. It's also happening for any skin-hanging problem. That minimizes the eyelid area. That's why hard to apply makeup.
13 hooded eye makeup tips
Several way ladies can solve the problem. But it is not easy to gain impeccable knowledge. Because it is no easy task. Without perfect tips, makeup applying can be more difficult.  So need expert thought that can be believed
I gather there almost 14 eye makeup tips for ladies. All are collected from expert artists. Hope this discussion numerous way helps to get a gorgeous look. And solve the difficulty of eye makeup.
You can trust me all are skillful artist approves. As a beauty-addicted person & author of beautygardeners. I also settle my mind with the expert tips. That's why I throw for you.
1. Choose perfect eye makeup
Women can create a thousand types of eye looks with makeup. But all is not good for you. You have clever to choose a perfect look from them. Because I think you already understand need an extraordinary subject for hooded.
So forget general thought. Try to do something different. That can make a natural look. I suggest creating cut crease & half cut crease eye looks. That looks good with these types of eyes. I highly recommend to choice cut and half cut crease.
Women can also select holographic & shiny eye makeup. Because of holographic or shiny eye perfect for you. Spotlight looks also good balance with them.
2. Make eye look bigger
Need to make a big eye with makeup. Because of your supper hanging skin problem. Hanging skin makes eyelids smaller. Just try to make a large eye to solve the problem. Several ways you can do it. Now I discuss two or three ways for you.
Don't use the darker eye shadow & concealer on the eyelid. Dark circles make the eye look small. Try to apply colored concealer underneath and around the eye area. If you need to use a dark shadow. Don't forget to define with a cotton ball.
Try to highlight the inner corner of the eye with a shimmery shadow. That makes the eye look instantly bigger. I think this is one of the easy ways to make the eye look larger.
Maybe we all apply waterline. When applying waterline in the eye. Try to apply with white & nude pencil inner corner. That helps to make a big look.
3. Create a fake crease
Do you know why need a fake crease? I think you already know. Because the crease line is not visible in the hooded. So try to make it visible to create a fake line. You can create this line just spent one or two minutes.
But fast need a brown eyeshadow. Brown color good blend with any skin undertone. Then find out the natural crease line. This is the perfect time to use shadow. Be sure to apply it just close to the upper side of the nature crease.
Your almost complete the job, but not fully finished. Now need to blend shadow for defining the crease. This is the way of creating a fake crease. Maybe girls can do it because it's easy. Or women can flow image. There I display another way to create a crease.
4. Makeup with the open eye
The open eye is important to apply makeup. Lots of artists suggest using makeup with an open eye. I also agree with the artists. But you can do it with full or half-open. Depend on comport & need.
So when going to apply eyeshadow, eyeliner, or anything else. Try to do it without close the eye. This way girls can gain various benefits.
Because it helps to disappear hooded. Easy to find eyelid and crease. That's why you can easily understand where need dimensions & depth of the eyelid.
5. Apply waterproof mascara
I think no need to suggest waterproof. We are all used to with them. If I tell the truth everybody should choose a mascara that is waterproof. But its have a reason. There I try to explain. The biggest reason is this type of formulation helps to makeup stay in a place for a long time.
That's the reason it is not only urgent makeup for hooded eyes to solve this problem. Try to use waterproof mascara for each makeup time. Because you gain a great benefit with them.
But it is urgent for hooded more than anything. I already told her great benefit. Also doesn't transfer or spread makeup. That is our needs. That's why it is vital for us. So stay with them.
6. Choose matte shadow
Matter formulations are a great finishing for any type of makeup. Because most of the matte finishing cosmetics stay a long time in a place. So matte creation almost works like waterproof cosmetics.
But you have to careful with matte shadow. After applying need perfectly blend. That's the reason females can use a blending brush. Try brush forward & backward motion several times or as you need.
Keep brushing one or two minutes inner to the end of the eye corner. If you love to apply a dark matte shadow with any light color. Try to use black color outside of the outer corner of the eye. Now my choices two shadows.
Blushed nudes
Style with rock nudes look. Twelve different types of colors are available. That helps to create various styles of look. Color design by shimmer & matte finish. I think it's most of the shade perfect for the hooded style and any types of skin colors.
Lorac pro kit
Here more shade is available. Sixteen various styles of ultra-pigment. Eight is matter and another eight are shimmer within 16. Her matter & shimmers combination best for you. Also, women can create lots of looks with them.
7. Which color is the best?
I think a heart-touching question for a beginner. Questions that can break the dream. Maybe women can change their color choice. Because some shade is not welcome for you like black. Or any kind of dark shade.
If anyone likes the smoky look or dark shade. It is bad news for her. Don't worry black looks not goods for us. Try to stay with light shade. Ladies can use slightly dark with light color. But remember dark can be applied with balance.
You have to clever to choose a color. Take a shade that helps the visible eyelid. Basically metallic and shiny color is best. Some of the colors of my choice are gold, rose gold, silver, blue, etc. Just read 12 best face wash to remove dark spots & hyperpigmentation in 2021
8. Play with dark & light
What is your favorite color for the eye? This is doesn't need to know. The necessity to understand how to create a dark & light balance with each shade. That's the reason you have to practice in the home to be a talented artist.
You have to know which part of the eye has too dark. Which part needs to light shade? Because you have to work for eye features visible. When needing to more visible looks. I suggest defining the eye with two different areas.
One is the main part of the eye. Another one is brow bone. Bore bone looks good with a slightly darker shade. On the other hand, the light is perfect for the main part. I think this is the correct way to make it more visible.
9. Don't forget to wear a primer
Need to apply a primer for each time of the makeup. Because it is urgent for various reasons. If you don't have primer, try concealer & foundation. That is also working as an alike primer. But don't forget to wear.
You can benefit in several ways from them. This is not only important for hodded. It is important for each type of eye shape. Most of the primer, concealer, and foundation made with SPF. So you safe from UV rays. That is very harmful to the skin.
At the same time hydrates & protects the eyelid. But girls have to know applying process. Remember fast apply primer before applying any makeup. That helps to keep makeup products in a place for a long time.
It also helps creaseless women by giving a base. So various ways we can benefit from them. Now my choice two eye primers.
Minerals eye primer
Best one on the market. Made without oil and fragrance. On the other side, allergy-tested products. So you are safe from harm. Also works to combats excess oil of the eyelid. I think that is a great advantage with them.
Cruelty-free primer
A lightweight primer for us with high drying power.  It's dry very quickly without a problem. That's why I love this one for ladies. At the same time non-greasy formulation and long-lasting.
10. Stay with winged eyeliner
Winged eyeliner can be your best friend. If you are not used to with winged. Immodestly start practice in the home. There I try to help to create a perfect wing. But try it to do with a simple thin line. Otherwise, you are going to be ugly.
So start learning how to make an impeccable wing. Remember It is a little bit different on the general wing. There needs to create a rectangular shape of the edge of the eye. You can look at the photo to fully understand.
Now you have to extend the edges with a flick. Then create a little hump on the rectangular. That helps the illusion of the perfect curved wing.
Winged stamp liner
Fast of a waterproof formulation that helps to stay wing line in a place. Even if you have a handshake problem. Take this one because of comfortable with shaking hands. Comes with a stamp for the right & left eye. Ending the product with a liquid eyeliner pencil.
Haus wing liner
This is another liner formulated with waterproof. But matte finishing is the end of the dry. The color of the pencil is black. That easily glides without any tugging. After the application stays for a long time & flexible.
11. Use eyelashes
We are all addicted to wearing fake eyelashes. Because lots of women love to extend their natural eyelashes. That's why they are wearing false eyelashes. On the other side sometimes it is important to wear. Basically, urgent need when you want to create a dramatic look.
But be careful to choose an accurate one. Mainly when come to take it's for hooded shaped. This time some point you have to know. Otherwise, you fail to gain an attractive look.
Best way to take short or medium eyelashes. That is a fast requirement for our eye. Large and more dense lashes make the look odd. So choose a thin & small lash. You can try one of these two.
Wispies lashes
50 pairs & five different styles. So a huge collection in a place. But the color is only black. Made with 100% pure fiber. That soft and comfortable for a full day. Also small, medium & large size is available. So this pair perfect for us.
Winged eyelashes
This is another great lash for hooded. Because its size is best for us. Also natural & handmade creation.   Size medium to small that is our need.  After wearing looks like natural eyelashes. The feel of the lashes is comfortable & soft.
12. Lower lash line makeup
Lower lash important for the perfect look. So don't forget to color with your favorite shade. Without the lower part, you are not able to get impeccable looks. But you have to do with the same color shadow. That you use to the alluring upper part.
Remember, the only perfect application can make a balance. That's why women start to apply shadow entire lash line. Then try to make a slightly darker outer corner in a half. That you have to do with the balance way of the color.
Maybe you understand what I can say about the lower part of the makeup. But lots of ladies complete makeup without the lower part of the eye. Remember that is not good if you have a hooded shape.
13. Perfect eyebrow shape
Not only eyelids & eyelashes makeup enough for an attractive look. You have to concentrate on the eyebrow. A beautiful brow shapes able to make an artistic look.
I think you need to know which brow shape perfect for hooded. Because all shapes do not look good with them. So be careful when you thread the eyebrow.
Try to create a softly arched eyebrow shape. Arched is the right choice for you. But that has to be slim. Basically, this shape gives a balance with the wing line. But the right choice for any kind of eye makeup.
Make an Arched shape is not a difficult subject. Just create an arch right area and above the outer corner of the brow. Looks at the photo to fully understand.