Gladiator sandals are an ancient touch of modern fashion. Basically, it was more popular & fashionable Roman footwear. A long time ago Roman gladiators wore this sandal before starting fighting in the arena. Now, it is a beautiful & stylish piece for each man & woman.
Also, trendy for all most any party, meeting, casual walking, or important occasion. Roman people use leather for a relaxed & good look. The current fashion industry applies various types of materials.
Now a day's couple of intelligent designers trying to include numerous decorations, mind bowling colors, comfortable & smart think with them.
That steps make a stylish touch in the fashion industry. That's why we should know gladiator sandals outfit ideas. Because this information helps to perfectly fashion with them.
How to choose gladiator sandals for my foot shape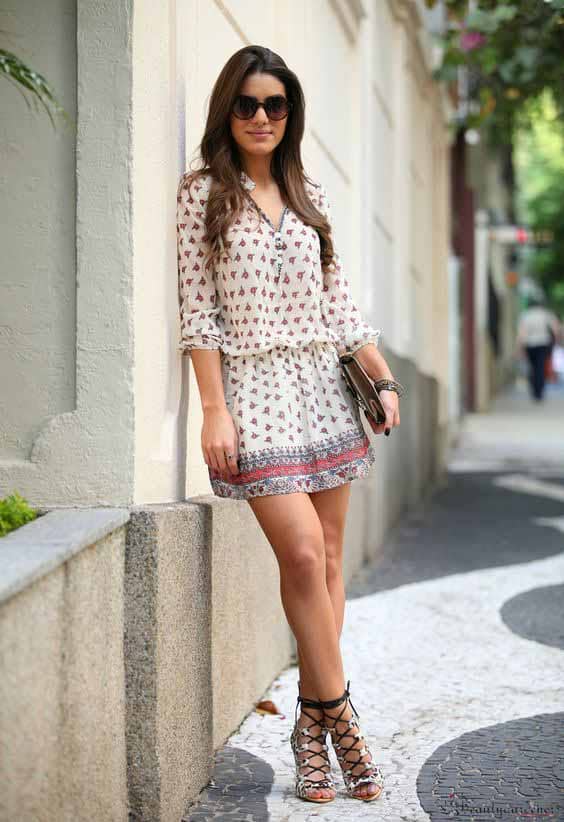 Modern roman sandals come in different sizes and shapes. You can collect lots of designs for various types of footwear from the shop. Sadly, every design is not good for you. Because one thinks is not comfortable with the altered person. That's why need to know foot shape. At the same time, you have to pick a beautiful dress with gladiator sandals.
However, It is important to know every human being. What foot shape well for particular gladiator sandals. There I try to discuss everything. That information helps you to pick the right sandals for your leg.
High heel style
This is dream footwear for a flat-footed shape, shorter ladies, or who love rock style. That added an extra length with any height & make you look longer. However, if your body is short heel is the best way to look longer.
Ankles high sandals
Need thick and muscular calves' for a proper look with ankles high. I was trying both types on my leg. But did not feel comfortable. It is not sweet with my food shape.
The shape is important for any kind of sandal. This design good for who carried thick ankle, long legs, or mescaline calves.
Mid-high gladiator sandals
This trendy pic is really attractive and also easily catches other attestation. For that reason, the leg is a great matter for mid-high. The short leg is not appropriate for mid-high. This style is only lovely for those who achieve a long, slim, or pretty leg.
Knee-high gladiator
The knee-high style easily catches others attention on the leg. That's the reason the Leg is a big asset to wearing knee-high. I am not perfect for this. Because my ankles are thick and my legs are short. Slim & long leg good for knee-high.
Shop the look
Gladiator sandals outfit ideas
Maybe you already know lots of gladiator sandals styles are available. That's why every woman should know how to fashion with each gladiator sandal style.
---
What do you wear with gladiator heels?
I like to read perfume vs body spray. I also love to wear silver & gold color, high heel gladiator sandals in the office. However, heel not only a beautiful style in the office. But also a gorgeous pick for weddings, holidays, late-night parties, & any occasion. You can make a real mode with ankle, mid, and knee calf heels.
Gladiator heels come in various types of color, materials, & style. Both styles are available in the bazaar. You can wear skirts, short dresses, A-line skirt, mini-skirts, or skinny jeans. The best way to select a dress that gives a balanced look. Personally, I wear mini-skirts with my short legs that give me a long look.
A fashion designer advises me to wear knee-length or shorter skirts and I tried last week. Really, it was a beautiful aide. One month ago, my little sister wore metallic heel sandals with a lovely cocktail dress. That was looking attractive. You can fashion in various ways with high heels.
Shop the look
5 cute outfits with gladiator heels
---
Outfits details
Shop the look
Look details
Shop the look
What she wears
Shop the look
Dress up details
Shop the look
Outfit ideas description
Shop the look
How to wear ankle gladiator sandals?
Personally, I believe ankle-high best for everyday use. You can also wear an office, party, casual way or all most every occasion. Its tall stops just ankle also available in the heel & flat version. You have to wear good looking and stylish dresses with them. That conveys by the mode.
When comes to choose a dress need to take colorful sundries, maxi, long skirt, skinny jeans, boyfriend jeans, short dress, and a short skirt, etc. Why you are waiting just starting a fashion with them. Last weekend I wear a gold color with a gold shine evening dress to joining a fashion show. Some of the performer picks were incredible.
They were taking basic footwear for casual dresses. Sometimes I also love to style by heeled & taking a bright colorful outfit with them. You have to be careful when comes to selecting the color of the dress.
You can choose a color that balances with the dress color. At the same time chooses an outfit that helps the visible leg. This is most important to legs visible with a gladiator sandal.
Shop the look
5 Outfits ideas for ankle gladiator sandals
---
Outfits details
Shop the look
Look details
Shop the look
What she wears
Shop the look
Dress up details
Shop the look
Outfit ideas description
Shop the look
Dress with mid-calf gladiator sandals?
Mid-height style is popular for her fashionable and stylish look from many years ago. Still, it is the most fashionable subject of famous actors or models. Sadly, this trendy look is not sweet with some of the foot shape and dresses.
If anybody decides to wear mid-calf. She needs to prepare for short dresses. This is the only easy way to find perfect, fashionable, sexy cloth with them. Mini-skirts, shorts or any little dresses the best choice for this fashion. When you come to collect an outfit. You have to be intelligent to choose a color.
You can select a wash that balance with skin tone. Sometimes I feel confused with this ancient piece because a good balance needs between the dress and sandals.
Shop the look
5 beautiful dress ideas with mid-calf gladiator sandals
---
Outfits details
Shop the look
Look details
Shop the look
What she wears
Shop the look
Dress up details
Shop the look
Outfit ideas description
Shop the look
How to style knee-high gladiator sandals?
The knee-high sandal is not sweet for every person. Some points you have to keep in mind before choosing attractive knee-high. Leg visibility is a key pact for this style. You can wear a dress that ends above the knee. Like mini-skirts, shorts, mini dresses, etc. Also, you have to avoid maxi, long skirts, etc.
Sometimes I wish to style with Leg visibility. But my age and leg shape do not go with them. You have to be under 45 ages. Overages women are not perfect for mini dresses & pretty legs. At the same time you have to be confident, the right attitude with them.
Also, need to take a balance dress with this trendy and sexy feel. If knee-high sandal does not match your personality, confidence at this point. I think the best way to avoid ancient footwear.
Shop the look
5 dress up ideas with knee-high gladiator sandals
---
Outfits details
Shop the look
Look details
Shop the look
What she wears
Shop the look
Dress up details
Shop the look
Outfit ideas description
Shop the look
2 Q&A to fashion with gladiator sandals
Just read to know a perfect gladiator sandal, fashion aide with summer & winter dress. Hope you don't forget to read.
---
1. What color gladiator sandals, go with every dress?
A fashion consciousness person needs to select beautiful colors & materials for sandals. That comforts her mood and style. When come to take the best italian sunglasses brands click here, sandals, or anything. I get a lot of colors, styles & materials in the market that confused me.
Most of the shade is blue, purple, red, yellow, gold, green, silver, etc. Fundamentally, black leather has to be a fast choice for any footwear. That's the reason a couple of years ago I decided. To pick all-time black leather & bases sandals design. Dark & basic designs comport for any type of style & with any dresses.
You can try another color like metallic, silver or gold. This type of shade is cherry-picked for a funky style. If you want to wear a daily basis flat design and black wash best choose for your mode.
2. What are the different types of gladiator sandals?
Several years ago I worked as a fashion designer in a reputable brand. That time I collect lots of evidence about ancient footwear. This information really useful for a person.
I try to give you valuable info that helps to pick the best one. Most of the popular styles are mid, ankles, and knee-high. But high-heel also available in the market.