Emma Charlotte Duerre Watson is one of the most famous British actors in the world. Her well-known name is Emma & born on 15 April 1990. She is worldwide famous for Harry Potter films. Recently signed for the movie "beauty & the beast". She is a stylish and fashion-conscious young celebrity.
The British model is fabulous for her perfect makeup, skincare, and gorgeous look. Some things you don't know about Watson. When Emma was young, she hates to wear lipstick. But today Emma Watson, age is 28 and now she loves Lancôme Rouge in love.
Recently I have collected my favorite Emma Watson makeup products from a Twitter post. That helps her to get an attractive look. Charlotte likes to use Lancôme nail polish, lipstick also some nice beauty products. Today I want to show you several favorite products that I collect from twitter.
Emma's favorite 10 makeup & beauty products
I hope you love her all makeup and beauty product collection. But most of the collection is makeup. At the same time, several mind bowling beauty product is available.
---
1. Lancome Vernis in love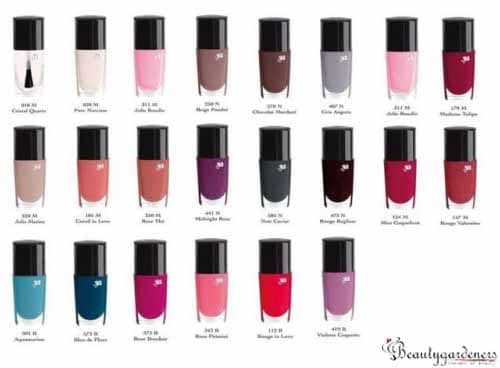 Lancôme & Opi I love these two nail polish companies in my life. These two really make good-looking and beautiful polish. But I don't love her toxic polish collection. Because of the toxic very harmful for us. Basically, I love the best nail color for pale skin time.
However, Gris Angora is a beautiful polish from Lancôme. You can also say Emma Watson nail polish. But she loves only Gris Angora.
But this polish comes in several shades. Gray also not my favorite color, but my actor loves gray pigment. Because this is going with her style & mood. You can easily describe Angora is a soft gray with a durable violet, purple tint. If you don't love her choice. Just try more color there-
Aquamarine – teal blue
Beige dentelle – nude pink
Chocolat mordore – deep toffee brown
Corail in Love – coral
Gris angora – light gray
Jolie Rosalie – bright pink
Jolis matins – creamy beige
Madame tulipe – warm red
Midnight rose – deep purple
Miss coquelicot – red
Noir caviar – dark grey
Rose boudoir – hot pink
Rose Pitimini – bright pink
Rose plumeti – soft pink
Rose the – brownish pink
Rouge In love – bright pink
Rouge reglisse – deep wine plum
Rouge valentine – brick red
Violette coquette – light lavender
Before using it was the worst polish for me. But after applying, I have some good experience with them. It's creamy finishing, soft and shiny look attract me.
Two or three coats are enough for full coverage. Personally, I have these types of experiences. If you love Emma's choices polish Please, tell us your experience in a comment.
2. Mason Pearson hair brush
Hair is the most important part of a fashionable look. Harry Potter actor selects a Mason Pearson brush to take care of her good-looking hair. This company has 100 years of glad experience in this field.
It is a 100% hand-made product. Generally, it's created for various types of hairstyles. That's the reason good for every person & each hair type. Personally, I am searching in the market and find out Mason Pearson comes with lots of variation.
The most popular creation is Detangling Comb, Rake Comb, Nylon, Handy Bristle, and mixture design. Finally, I choose Bristles for my normal hair. If your hair is very thick, just take the Nylon version. You can use a Mixture style for your normal to thick hair. Do you love Mason Pearson creation?
3. Bi-Facil eye makeup remover
Just I am showing a unique and oil-free eye makeup remover from Emma Watson beauty products. She uses Lancôme Bi-facial for her sensitive skin. But mad for every skin type. That softly clean without hassles.
Already buy several times for keeping the eye-safe area from harmful cosmetics. Your favorite British actor also cleans with them. I use only a few drops on the cotton pad.
Then start wiping surfaces of the eye to remove cosmetics. This is really nice & good work against shadows, liners, and waterproof mascara. You have to shake the bottle before taking a few drops on the cotton pad.
Generally, a few drops are enough. That's the reason one bottle goes long. Really good work without damaging the skin. Also, you feel fresh with them.
4. Rich lip liner
Maybe Nude for life impresses Emma but one thing is true its shade is really beautiful. I also love her choice. It is a copper-brown color.
Comes with the L'Oréal rich lip liner collection. L'Oreal rich release with a variety of color copper-brown one of them. Another shade is
All about pink
Always red
Au natural
Beyond pink
Eternal mauve
Forever rose
Lasting plum
More chocolate
Nude for life
Timeless coral
Toffee to be
Truly burgundy
Nude for life suitable with lighter, copper, bronze, dark color lipstick. This type of pigment well blend with them. Also, you can call this is a smoother and softer liner collection and stay for enough time.
You can spend an average time with only one application. If anybody has a bed knowledge with them. Please share with us. Do you have any experience?
5. Organics moisturizer
This is really a pretty dramatic moisturizer for sensitive skin. Emma Watson said I have sensitive skin finally get MV organic moisturizer. That best for my skin. Easy to use and relaxing feel combine to make a nice product. Each applies needs less amount of product. That helps to use for a long time.
Its true tiny amount is enough for me. But I don't know how much you need. You can apply it on the face, neck, and upper chest, etc. I have another experience that gets from my friend. If you have dry skin just mixed a few drops of facial oil to create a light lotion.
Then use on the skin. The MV ingredient choice is really enough & a good blend for a moisturizer. Because made from a variety of natural ingredients and vitamins.
The texture of the lotion is creamy and the smell is beautiful like a fresh rose. But matte finishing is not a happy ending for me. Yes, its finishing is matte.
6. Rouge in love
Most of the women spend lots of time finding the best lipstick for office for creating a beautiful and sexy lip. But I went to say, please don't waste your time, just stay with Emma choice.
She takes Lancôme Rouge in love for her lip. Personally, I haven't any own experience with this. But gathering some knowledge from several sources.
Now I only share collecting information for you. Rouge comes in several shades. Some of the gorgeous shade is
Lasting kiss – nude pinkish brown
Rose boudoir – bright rose pink
Violette coquette – deep violette
Midnight rose – fuchsia
Sweet embrace = nude baby pink
Fiery attitude – deep berry wine
Jolis matins – soft peach
Cocoa couture – deep reddish brown
Jolie Rosalie – natural mauve
Sultry simplicity – chocolate brown
Roses in love – rosy pink
Corail in love – pink coral
Miss coquelicot – bright coral
Madame tulipe – light coppery red
Sequence of love – Cool true red
Rouge valentine – clean warm red
Saint Honore – deep warm red
Ever so sweet – fresh peach-y pink.
Two or three layers need for full coverage. But the best way fast applies a layer, then wet several secants for next use. You feel comfortable with this long time wearability. Four and five hours easily stay with this lightweight formulation and rich pigmentation.
7. Luzern pure cleansing creme
A nice oil-free cleansing gel from Emma. So you can accept for the skin. Just try to use it daily two times morning and evening for a fresh feel. Luzern little amount is enough to fully wash and application very easy.
Fast you have to take a few amounts on the hand. Then massage into the skin and last rinse thoroughly with normal water. This gel refreshing skin without stripping and irritating.
It is a nice beauty product. That made for all skin types. If you have sensitive, oily, or combination skin doesn't hesitate to take it. This cleaning power is really sweet, gently removes oil, dirt, other impurities.
8. Beauty Blender
Sometimes I feel boring to applying makeup for various types of smearing tools and much application thought. My best friend fast introduced to me a beauty blender. That's helpful for an unskilled makeup applied.
This blender is a very popular product right now. Hollywood celebrity Emma Watson makeup with them. It's an egg-shaped, pink color, lightweight, and a soft sponge. You can blend an easy way without using any implements.
The sponge has the ability to keep her shape. When you press wiper for applying makeup. Able to early back her main shape. Also has a beautiful curve shape and textured surface. That help you to a successful submission.
Personally, I use the pointed side on my nose and eye area to smear heavy foundations. Its round side best works with my forehead and chin. This is an expensive tool, but reusable, just you have to clean it after use.
9. Pocket pal
The beautiful watery lip tint. That unique for her both side's usable capabilities. One side for gloss and other lip stains. Its creative creation is really wonderful and provides best usable involvement.
Also popular for daily use. Superstar Emma likes my favorite Benefit lip tint. If you went to get a good result just apply lightly on the lip. Personally, I advise to lightly use that useful for quick dry.
Also, longevity is not a bed after one applies its stays for 4 or 5 hours. Really excellent portable rose glow. You can use it for a natural and shiny lip. What is your opinion about this product? I love it.
10. Blush dry shampoo
Blush is a small size dry shampoo that helpful for a busy person to carry any place. Its clean floral & fruity scent is really attractive. You can use it any time in the day or night.
Because it's sweet smell stays for 30 to 45 minutes. But one thinks you need a good shake before start spray into the hair. My friend suggests spray time to keep the nozzle 25 to 30 cm far from the hair. At the same time spray into the hair roots.
After complete spray, I just wait 1 or 2 minutes, then start massaging hair. When complete rubbing you have to prepare for the brush. This water-free floral dry shampoo cleans dirt, oil & white stuff.
Also makes a clean and fresher feel. Sadly, its beautiful feel does not stay for a full day. You can only get a lovely touch for 2 or 3 hours. Overall, not a bed you can start with Blush.