Some days ago I want to know. About Emma Watson makeup products. But surprisingly I get on the internet. Amanda photo with beautiful dresses. That's why I wish to discuss details about her dress & style with my rider.
However, Amanda is a famous American actress, singer & model. She was born on 3 December 1985. This famous model began her career when she was 11. Recently Amanda attended the 15th annual U.S. Open Tennis Championship. Where Serena Williams creates history.
Tennis is a popular game. But Amanda Seyfried style, fashion concept, and womanly look is also famous in the world. She was wearing beautiful feminine dresses to attend the game. That was really awesome.
As a fashion designer, I want to say from a fashion sense. This outfit aide really wonders for female expression. You can easily achieve this classic and vintage look. If anybody wants to achieve I can help her. It's easy and simple just follow my instructions. Also, gain this expression to join a party.
Amanda Seyfried looks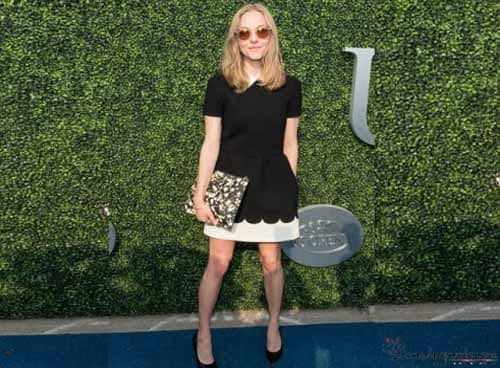 This is a lovely outfit and some beautiful accessories combine to make an attractive style. The American model wore a black & white Peter Pan collar dress on her upper body. The black color looks wonderful with her white skin.
she takes the best lipstick for thin lips click here. She covers her eye with orange color round frame sunglasses. That added value to get a gorgeous look. Also, look at the picture and follow simply a fashionable rectangular cloth bag. This model also wore stylish black court heels. As a final, she chooses the perfect foundation for her face.
Amanda just wore a simple dress, heels, & accessories before attending the Tennis Championship. This dress-up gives her a beautiful feminine look. Now I discussion about her particular pic.
Black & white Peter Pan collar dress
A woman always loves to new ways to present her femininity. That's why Amanda Seyfried dress includes a Peter Pan collar to express her stylist mode. This type of collar is best for a professional & traditional look. You can get this design on knitwear, jackets, coats, shirts, blouses, etc. Also a variety of clothing items.
A long time ago this fashionable dress included the fashion industry. Maybe, it was 1905. So many years, these styles popular in women's fashion.
Generally, a peter pan collar is flat. This is a round collar and its cut around the neckline. It is really beautiful and style. Also available verity of length like- high, low cut etc. You can wear a black and white Peter Pan collar to express your beauty or copy a similar look.
Shop
Floral turn-lock clutch bag
Handbags are the most essential part of women's fashion. Most of the beautiful ladies feel uneasy without a purse outside of the home. But you have to choose a purse that equals your mode.
Normally this is a fashion accessory. Sometimes it is more vital to carry some necessary item. Look at the Seyfried image and maybe you can love a sample floral turn-lock clutch bag.
This handbag perfects with her feminine, fashionable, or beautiful look. It is a rectangular-shaped bag. Anybody can choose for a dancing, formal or wedding party. This is large enough to carry cosmetics & accessories. You can use a floral turn-lock clutch bag to copy the same look.
Shop
Black leather pumps
Leather pumps are good looking footwear. You have to choose the right fit for gorgeous, comfortable. Generally, I find soft and black leather pumps. That gives me comfort in the wearing time.
You have to keep in mind when choosing the same footwear. The exterior is the best way to find the perfect one. Also can choose more than 5-inch heel. I think this is a more walkable height for fashionable women.
Personally, I love black leather pumps because black color is more attractive than other colors. Just look at the picture and think carefully. Probably, you can get the perfect one on Seyfried's foot. Want to copy the same style just need to pick this similar one.
Shop
Round sunglasses
Sunglasses are a fashion accessory, but it is essential for protecting eyes. Sometimes it's difficult to choose the right sunglasses for face shape. Before you choose this stylish piece. Fast you have to know which style best for your face.
Seyfried has worn a round form that goes with her mood, beautiful light color lip, style & face outline. Generally, a round shape best for square, narrow, and oval faces.
If your face character is square or oval you can choose round sunglasses for a similar look. If your face shape is not accurate for a round frame. I mean you are not a square, oval shape person. Just tries other frames that best for your face shapes.
Shop